Leading Search Engines Suggest Your Business
coordinated digital assets to enhance your professional brand
Your Competitive Advantage
Search Box Optimization Places You Above Search Results
Your prospects will see your company (or your name) as a "search suggestion" before the search engine displays the search results (all they see is you without the competition).
Search Box Optimization Brings You The Best Leads
Google estimates that 71% of all searches use their "autosuggest" feature. That's where our search box optimization service places you. 
What Is Search Box Optimization?
Search box optimization enables you to be in Google and Bing's auto-complete search. Your prospects and customers will see your first and bypass your competitors.
Digital real estate is no different from physical real estate, they're both rely upon "location"
Search Box Optimization is the very best digital real estate you can own…
It's exclusive. When you own the autosuggest search term, you not only show up in the search box, you're preventing your competitors from showing up in the results.
Let our team help you find the best search phrases and secure them for you.
Until now, the only way to own the 1st page of search results would be to SEO yourself to the top of page 1 and pay for every click from your customers in a pay-per-click campaign. Now you can bypass the competition, eliminate pay-per-click and own the entire organic search results.
Only one company can be optimized for each suggested search term, that creates an "exclusive opportunity" for whomever secures that search phrase. We never resell a search phrase.

Search box optimization is typically more cost effective than pay per click campaigns and SEO. When someone selects your company from within the autosuggest, your company will own the entire first page of results.
Whenever someone types your optimized search term, they'll see your company before any of your competitors.
Search Box Optimization Demo
Targeted Search Phrase...
personal injury attorney boston
Michael's Google Suggested Results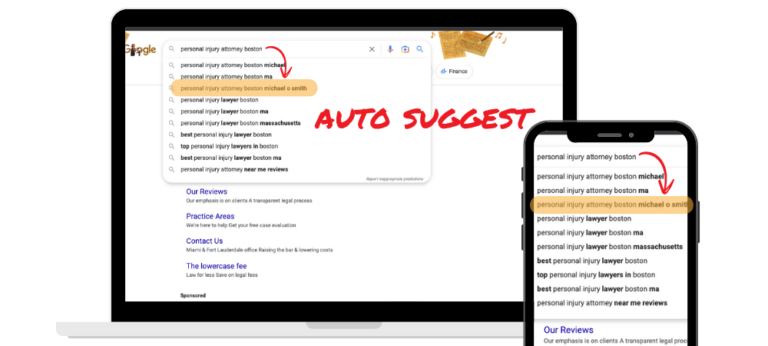 once a search phrase is taken, it's gone
We use search box optimization to place your company name into the search box. We place you where people type in their search.  Your company will show up as an auto-suggestion in the search box.  It will appear as though people are recommending you, or that you have the most authority.  People will be inclined to pick your company because Google or Bing is suggesting your company. 
Take Up The Entire 1st Page
A great business needs exposure, let's get you some
Search Box Optimization enables you to be in front of every potential customer searching for your products and services.  Your company name will be in front of the eyes of each person looking for your product or service. When someone selects your company from the suggested results, the search results are transformed, placing your business in each result, occupying the entire first page.
Do you look beyond the first page or first ten search results? Nobody does..  What most people do is look at the first page of results and if they don't see what they like, they revise their search term and look again. Our Search Box Optimization services places your business in the search box so that when a prospective customer is looking for your product or service, you show up as a suggestion in the search box. Being a suggested solution provides consumers the confidence they need to buy from you.
Get More Customers. Affordably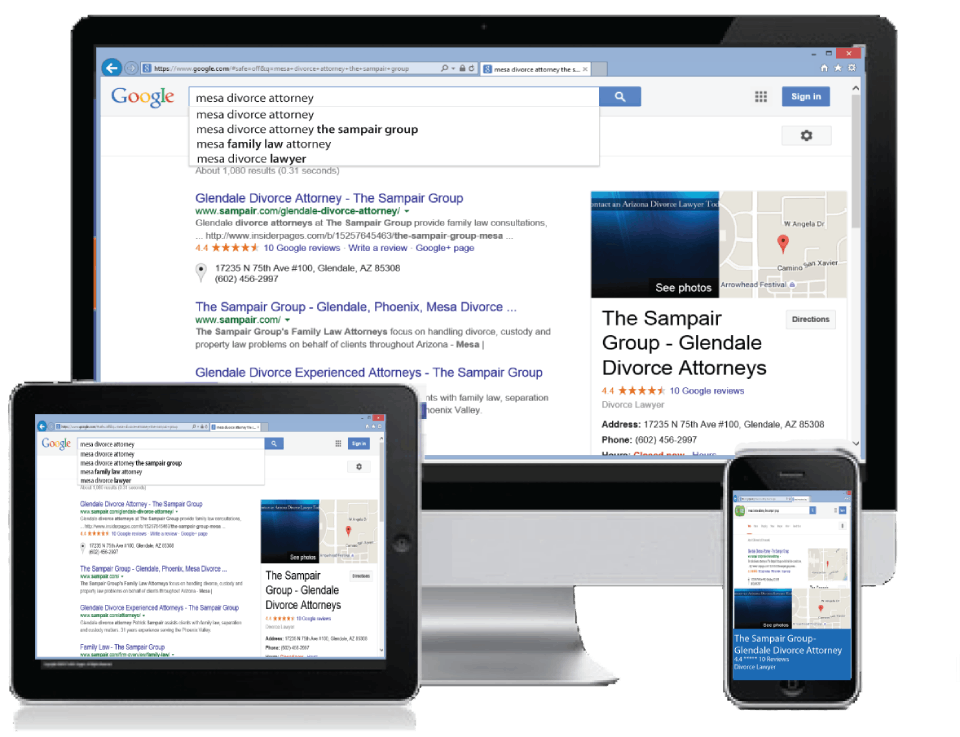 Show Up First On Every Search
This is a unique marketing platform that none of your competitors will have.  Be the first company your customers see when looking for your product or service.
we have search box optimization programs for both
Frequently asked Questions
We make this program simple & affordable so everyone can use this technology and obtain more customers.  We will never sell your keyword phrase to anyone else.  Once you purchase a keyword phrase – it's yours. Your competition will never be able to get that keyword phrase.
When you submit your order for Autocomplete-Optimization, our team will review the keyword phrases you submitted and will follow-up with you if we find any keyword phrases we feel you should consider.  We will perform keyword research based on the following: 
Monthly search volume, Keyword competiveness, pay-per-click bid costs, buyer intent phrases and urgent need phrases.
Our Simple 3 Step Process

Choose Either Local or National Keyword  Phrases
Lock In A Price For Search Box Optimization 
Secure Exclusive Keywords So That No One Else Can