Customer Monetization
Core

Method
Generate More Predictable Repeat Business and Customers on Demand
What Is The Customer Monetization Core Method?
The DoCorporate Customer Monetization Core Method . . .
helps improve your customer communication by having us do it for you, behind the scenes. This provides you with a method to generate more predictable repeat business and customers on demand.
Customer Monetization
Core

Method
Predictable, higher margin revenue awaits…  
You focus on the front-facing, in-person customer experience and our method takes care of all the rest, behind the scenes.
What's Happening Behind The Scenes?
Our team works along side yours, remotely each month. At any time you and your team can login to see what's going on. The reporting and analytics provide you with transparent insight into the effectiveness of your managed communication and offers. 
Likely, for the first time in your business, you'll be able to measure what's producing additional business and what isn't.
Here's what you'll find with the Customer Monetization Cire Method working for you behind the scenes:
High-Margin Multi-Factor Revenue From Loyal Customers
A happy customer is not only more likely to become a "loyal" customer, they're more likely to return multiple times each month or each year, depending upon your industry.
They'll refer people to your business through word-of-mouth.
The ones comfortable or encouraged to do so will rave about you online for others to see. 
They'll also typically spend more when they buy and will be more open to recommendations that may be more profitable for you. 
You don't have to advertise to get them.
Your other customers . . . 
You have to continually advertise to get them back. They rarely refer you to their friends and family and they don't spend as much as loyal customers do when they come in.
The best thing you can do in your business is get better at building your customer relationships, it's the single most important activity in your business.
It's not that simple!
Nurturing your customers isn't easy. It's time consuming. It's a lot of work.
It requires a communication system that provides your customers with offers, incentives and answers to their questions, across all the channels of communication they may use (sms, email, social media or in person).
You need the Customer Monetization Core Method because it provides support and insight into your customer communication so that you can determine the effectiveness of what's working and what's not, in real time, with minimal disruption to your day-to-day operation.
That's what you need to steer your business in the right direction. And you need to be able to do that every single day. 
In today's multimedia world, it's increasingly more difficult to do.
We know. We tried. We succeeded!
Use the same method in your business that we use in our's . . .
Customer Monetization
Core

Method
The DoCorporate Customer Monetization Core Method includes:
The key to attracting new customers is to offer them something that's hard for them to say "no" to… something "irresistible".
The offer should be easy to redeem and be available to them immediately.
Providing multiple access options (SMS text, QR code and website link) makes participation easy.
The Customer Monetization Core Method includes an SMS text enabled phone number and custom SMS Text key phrase that your customers can use to receive your irresistible offer.
Most typically, texting the key phrase returns a link to the opt in page where they'll be required to enter their name, mobile number and email.
Your Customer Monetization Core Method includes an opt in page that we customize and host for you. This opt in page is the gate through which the interested person must pass to receive your "irresistible offer". The page is optimized for desktop and mobile.
The opt in page is designed to be consistent with the flyer and your company branding. Optionally, you can request or require name, email and mobile number on the form submission
Upon submitting the opt in form, the customer is sent an email and/or SMS text with simple instructions on how to redeem the coupon.
They'll click the link provided and that link will do one of two things: (1) validate them with a date and time stamp for the cashier to see or (2) send them to a page that shows the offer (with or without a countdown timer).
Offer Redemption Validation
If you select the "offer redemption validation" option, the customer will receive an email and/or text message that includes a link.
Clicking the link triggers a date and time stamp message that they'll show to the cashier.
To validate the message, the cashier simply needs to recognize the date and approximate time stamped in the message the customer shows on their phone..
If the link is clicked anytime thereafter, the system generates a "declined" notification, informing the customer that the coupon has already been redeemed.
Offer Redemption Alternative
If you prefer not to validate the redemption of each coupon, upon submission of the form, the visitor can be redirected to an "Offer Redemption" thank you page. This is the one page that virtually 100% of all visitors will see after they opt in.
This page should include a count down timer (making it a limited time offer that the visitor won't see again).
Follow up continues for you, automatically. Our short-term follow up includes a mix of 3 to 6 emails and SMS text messages over a ten to fourteen day period.
These messages include new special offers, review requests and short personalized messages.
The follow up message content includes community information, tips, humor, suggestions and cash surge generating "irresistible offers. Once a recipient takes an action, they're removed from the remainder of short-term follow up automatically.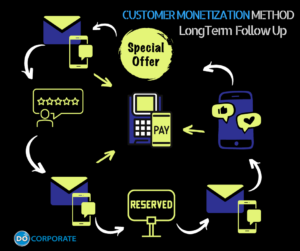 Long term follow up communication is designed to keep your business in front of your customers. It includes community information, tips, humor, suggestions and cash surge generating "irresistible offers.
The most valuable aspect of The Customer Monetization Core Method is that it enables you to generate "Customers On Demand".
How?
Let's say you're having a slow week or slow night?
All you need to do is send us a text and within minutes we can send your offer to hundreds of your existing customers.
Can you do that right now?
Powerful. Fast. Cashflow.
Dormant Customer Reactivation
You've already won over your customers, you just need to reconnect with them and "remind them to come back".
We implement a proven email and SMS campaign that reawakens your dormant customer relationships and gets them doing business with you again. Many will thank you for reaching out and reconnecting with them
Existing Customer Campaigns
Our Customer Monetization Core Method focuses on presenting "irresistible offers" to your new and existing customers when they're at your location, then following up with them to get them to keep coming back.
There's also a base of customers, clients or patients that aren't routinely at your office, practice or place of business.
We'll help change that.
Together, our team works with yours to create fresh offers that, based upon their prior history, are more likely to resonate with them and lead them to purchasing.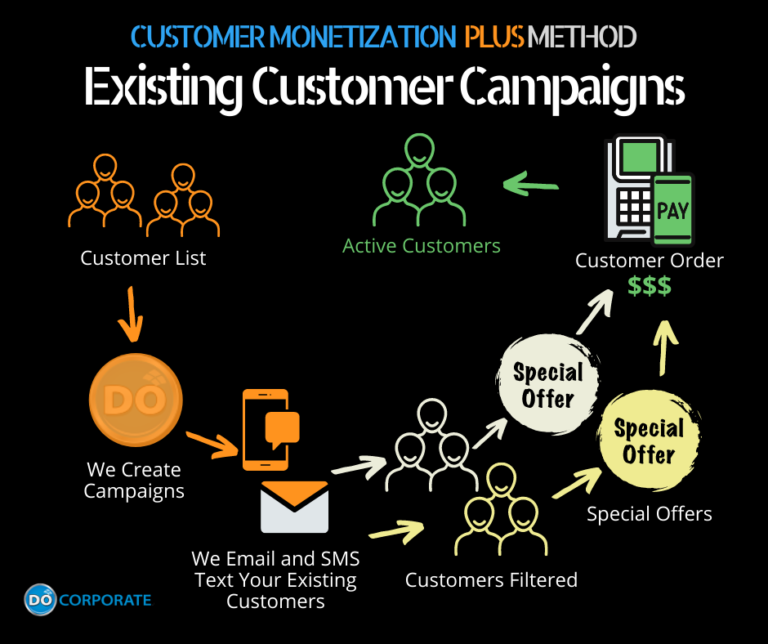 Frequently Asked Questions
Experience The Customer Monetization Core Method
Go through a self-guided demo
click the "Get Started" button to view the details of each plan
Sign up for our Customer Monetization Core Method by clicking the "Get Started" button.
We'll gather your contact information and create a custom branded account for you on our web-based platform.
We'll deliver your Customer Monetization Core Method and help you implement it in your business and online.
Regular Price $697 Today Only $497 per month
RISK FREE 30 DAY "I'M HAPPY OR I PAY NOTHING" MONEY BACK GUARANTEE